Room Service SOP documents set by step procedures adopted by hotels to enhance service delivery to their customers at the appropriate time and right condition. Room service is a section within the food and beverage division of hotels and resorts. This type of service has been an important part of traveler's experience in hotels since 1931. Progressively, however, in the early 2000s, room service has grown to be one of the key common service deliveries in hotels, hence ceasing its symbolic meaning of entirely luxury service.
Room service is an element of the hotel operations which involves serving food conveniently to individual guest rooms by just calling the room service subdivision and placing your food and beverage order to be delivered to the room.
Room service is a 24 hours service that enables customers to select menu items to be served in their room for consumption. Check out similar articles.
Why Room Service In The Hotel?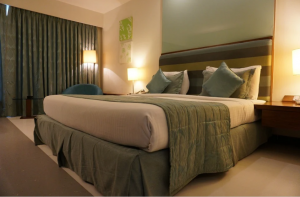 Room service allows the clients to be served without having to wait for a free table during peak hours of meal service. Guests won't need to move out of the comfort of their rooms during harsh weather in search of food. Late dinners and those who wake up early can have their food and drinks. Some of the reasons why a hotel should provide room service to its guests are;
Guests get pleasure from meals in the solitude of their room.
Guests are able to place their orders even at unusual hours.
It saves time for clients when food is served in the room.
Advantages of Room Service
Customers can eat and drink within the privacy of their room.
Clients can order meals at any time at their convenience.
Room service minimizes food wastage as compared to buffet service in the dining room.
Guarantees convenience for customers living with babies.
It promotes safety because clients are capable of staying inside their hotel property.
Guests can have their meals in casual wear or nightclothes without exposing themselves.
Very convenient for early risers who cannot begin their day unless they have breakfast almost immediately after they wake up.
Room Service SOP | Step By Step Procedures
Answer all telephone calls with a clear and slow voice within 3 rings. Give an apology if more than 3 rings.
Respond to all telephone calls with "Room service, good morning/afternoon/evening, how may I assist you."
Repeat to the guest for clarification of the order and room number.
Advise the guest on the estimated time to deliver his/her meal and thanked them for their order.
Hang the telephone receiver after the guest has disconnected theirs.
Deliver room service order within 30 minutes unless otherwise as advised by the customer.
The service tray must have all the essential accompaniments, cutlery, and fresh flowers in a vessel.
Gently knock on the door to the guest room. Do so twice and make an oral call alert "Room Service." Place the tray at the most convenient place for the customers.
Present the bill to the guest and thank them for their order. The waiter should leave the room after ascertaining the satisfaction of the customer.
Call the guest after 15 minutes to ascertain whether they are contented and happy with their meal.
Clear all trays from hotel client rooms within 45 – 60 minutes after service.
If you can't remove the tray right away from the room, advise the guest to place the tray outside the room for clearance after meals.
The Bottom-line
Investors should fully equip their hotel rooms with essential spaces and apparatus for an inclusive in-room dining experience that competes with an ordinary restaurant. Always remember that regardless of how attractive a dining table looks ahead of the meal, it is a disgusting image to see a table full of used plates and leftovers, especially in inadequate spaces of a hotel room.
For that reason, it is significant to establish the cleaning formula that takes away used plates as well as food leftovers from guests' rooms as soon as possible. For instance, you could serve the meal in unique room service trolleys, which makes it easier for customers to roll out of their rooms once they are done with their meal.
Reach out for our hospitality consultancy Here