Fine Dining SOP refers to step-by-step procedures adopted by a hotel to provide an exclusive restaurant experience that is exclusive, and luxurious.  Fine dining eating places provide a maximum level of customer service. Guests look forward to a stylish atmosphere, expensive table settings, as well as highly-priced menus. Besides, they expect service providers to maintain fine dining protocols. We have developed a guide of fine dining protocols and tips to assist new servers to offer their customers outstanding professional services.
Starting with customer service to table setting and posture, some diverse rules and principles are anticipated to be adhered to while working in a fine-dining atmosphere. Even though a number of these protocol practices may look like common sense to some service providers, e.g. smiling and expressing politeness, others may be strange to new employees who are not used to formal restaurant setup.
Though these rules may be different from place to place, the fine dining protocols should act as a basic principle when providing customers with the best meal, service, and ambiance. Whether you are providing dinner at a restaurant, wedding reception, or expensive event, these protocols will assist in ensuring you work professionally in any official foodservice setting. Check out similar articles.
Fine Dining Service Environment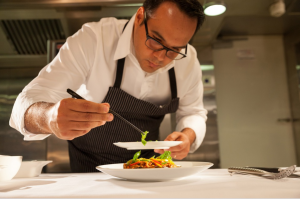 Depending on the type of event or meal, the table service setup will differ. Fine dining at restaurants differs from a buffet or catered wedding parties. However, all service styles aim to serve clients quickly, professionally, and with the greatest care.
The following are some of the fine dining service protocols applicable in the hospitality industry;
Fine Dining SOP
Acknowledge the customer within 30 seconds after arrival with eye contact, friendly smile, and verbal greeting.
Politely ask the guests if they preferred a sitting place while establishing the number of guests. Immediately allocate them a table according to their preference and space availability. Remove extra covers from the table.
Present open menus immediately to the guests, explain the specials of the day and inform the guests about any items that are missing.
Serve drinks within 3 minutes after ordering. Besides, use a clean tray and handle glasses from the base.
Repeat any order taken for clarification purposes.
Serve soft drinks and take food orders from the right side of the customer ladies first.
Serve starters within 10 minutes of ordering and main dishes within 20 minutes of ordering (unless agreed otherwise with the customer).  Place the required cutlery and crockery.
Check guest contentment 15 minutes after serving the meal.
Clear the table of dirty and extra crockery and cutlery within 2 minutes after each course.
Top-up drinks every time there is ¼ of drink remaining in the glass. Immediately remove empty bottles and glasses from the table.
Clear ashtrays with no more than 2 butts in the ashtray at a time.
Offer tea/coffee/desserts to the guests. Serve tea and coffee within 3 minutes after ordering and desserts within 3 minutes after ordering.
At the end of the meal, ask the clients if they would like to be served anything else. If not, present the bill to the guest in a clean bill folder with a pen and questionnaire within 4 minutes.
Return the change to the customer within 5 minutes after payment.
Thank the guests for their choice of dining place and wish them an enjoyable day/evening/night.
Fine Dining SOP | Server Etiquette Tips
Fine dining sop can be frightening and inexplicable to the inexperienced. Other techniques of serving customers are typically picked up instinctively. Scores of aspects of fine dining are controlled by regulations and customs that must be learned. Whether you are new to the restaurant industry or you have many years of service, our inventory of fine dining service tips provides an outstanding preamble to the world of fine dining service as well as protocols.
Reach out for our hospitality consultancy Here