Effective customer service means constantly over and above customer expectations and going the extra mile to assist people to solve their predicaments. Therefore, a customer is the only king in an organization! And he/she can send everybody the organization home from the chairman to employees, by simply expanding his resources elsewhere. (Sam Walton – Founder Walmart).
Understanding Customer Service?
Customer service refers to the procedure of guaranteeing customer satisfaction with a product or service. In most cases, customer service happens while undertaking a transaction for the customer, such as selling or returning an item. Besides, customer service is able to take the form of in-person dealings, a phone call, or self-service systems. Customer service is an extremely imperative part of sustaining ongoing customer relationships, which are important for sustainable income. In an ideal world, customer service must be a one-stop undertaking for the clients.
Organizations must be a commitment to providing updated information to customer service agents. To avoid making difficult a current problem, staff must have the newest and most precise information on products as well as business policies. On the other hand, cyclic evaluation of customer service is fundamental for operating a successful business. They should analyze and allow customers to give an opinion about the service received while suggesting areas for enhancement.
Customer service is providing the customer with WHAT he needs WHEN he needs it as well as the WAY he needs it.
Effective Customer Service | Who Are Our Customers?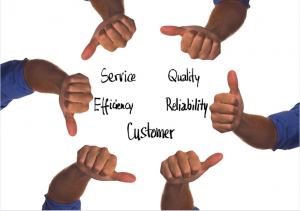 Our customers are classified into two: Internal and External consumers
Internal Customers – staff working in the organization.
External Customers – clients with whom we do business.
To succeed in service to external customers, you must first serve internal customers.
Effective Customer Service | Delivering Your Message Across
The way we speak with customers can make them make a decision to stay or go away.
Check out how we help hotels achieve their objectives
Effective Customer Service | Taking Care of Clients
Caring for your clients;
Establishes the future of the organization,
Ensure you achieve customer satisfaction,
Smoothens the progress of product consciousness,
Provides instruments for sharing their opinion as well as feedback,
Sustains good business relationships as well as preserves customers.
Dealing with Difficult Customers
Remain calm, communicate calmly as well as gradually,
Avoid taking it personally,
Express gratitude to the customer,
Demonstrate compassion,
Acquire permission to ask questions,
Describe the predicament,
Stay positive all through,
Be courteous,
Don't quarrel,
Establish a universal position with the customer,
Be truthful as well as unswerving,
Ask for forgiveness,
Provide a resolution,
Allow him/her to articulate his point of view,
Think about it as a direction to development.
Types of Customers
Demanding Customer – He/she needs it now, doesn't mind about the particulars. Besides, he wants only to deal with staff that is certain, keep eye contact while handling their issues efficiently.
Influential Customer – Enjoys chatting, feels affection when relating with others, and prefers talking. Nevertheless, a relationship is important to them, and wants it determined in a welcoming way.
Steady Customer – Fascinated with how things work, doesn't like alteration. Therefore, don't hurry the client, or else, he/she gets distressed.
Complaint Customer – Interested in excellence, likes adherence to regulations. Hence, he/she prefers accurate things, well organized and perfect. To address such a client, truth and supporting credentials are mandatory.
Effective Customer Service | Utilizing Correct Questions
How to use questions
Ask the correct as well as precise questions,
Ask adequate as well as clear questions,
Pay attention to the reaction as well as their body language,
Take action as well as provide solutions to the answers given.
The Most Successful Ways of Delivering the Message
Pay attention to your swiftness, it should go hand in hand with the clients,
The voice tone should be moderate, not too loud or too soft,
Demonstrate your feeling while staying away from entangling in clients' problems,
Pay attention to your attitude, it could either calm the client or aggravate him.
Gesticulations to Avoid in Customer Service
Folding arms across your chest – closed arms designates self-protective,
Covering the mouth with your hand – this designates lack of self-assurance,
Leaning back on an object – this designates lack of interest,
Keeping away from eye contact – this designates you are not paying attention,
Don't take chewing gum when talking to a guest – this designates a lack of concentration.
 The Bottom-Line
Excellent customer service characteristically means giving appropriate, thoughtful, optimistic service to a client. Besides, you must ensure that their needs are provided for in a way that replicates positively on the organization.
Reach out for our hospitality consultancy services Here